Hurricane Joaquin Continues to Strengthen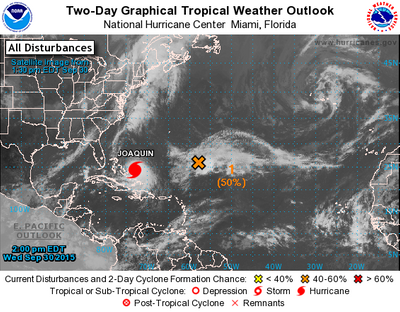 Joaquin, the third hurricane of the 2015 Atlantic season, continues to strengthen and is likely to develop into a major hurricane in the next couple of days as it moves toward the Central Bahamas, the U.S. National Hurricane Center said on Wednesday.
Joaquin, now a Category 1 hurricane, is located about 190 miles (305 km) east-northeast of the Central
Bahamas with
maximum sustained winds of 85 miles per hour (135 km/h), the latest advisory said.
"A turn toward the northwest and a decrease in forward speed are forecast by Thursday or Thursday night" the Miami based weather forecaster added.
A major hurricane is classified as a tropical cyclone with maximum sustained winds of 111 miles per hour (96 knots) or higher, corresponding to a Category 3, 4 or 5 on the Saffir-Simpson Hurricane Wind Scale, according to the NHC website.
(Reporting by Apeksha Nair; Editing by Chris Reese)