Submarines Move to Electronic Nav Charting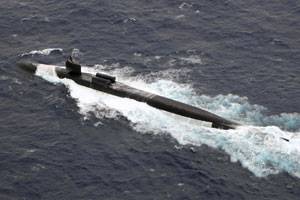 The Navy's Chief of Naval Operations (CNO) certified a significant milestone in the submarine force's transition to electronic charting by approving version 8.3 of the Voyage Management System (VMS) for use aboard attack and guided-missile submarines June 9.

For submarine installations VMS is tested and certified by engineers from Naval Surface Warfare Center (NSWC) Port Hueneme, Virginia Beach detachment. This latest software version enhances submarines' abilities to navigate in extreme northern latitudes and conduct under-the-ice operations.

"This event marks a significant achievement in submarine charting tool technology," said Jack McKee, VMS test, evaluation and operations team lead from the NSWC Port Hueneme, Virginia Beach detachment. "The first VMS electronic navigation systems were approved by the CNO for fleet navigation in May 2005."

VMS automatically plots and displays the ship's position, course, heading, speed and depth over a digital nautical chart, providing the operator with an instantaneous navigation picture. The VMS also provides the operators with voyage planning and monitoring tools to assist in planning and executing missions. The VMS' automated functions significantly reduce the workload of the operators, allowing for more timely decisions that are critical to the ship's safety and mission.

"The VMS in-service engineers have dedicated thousands of man-hours to the evaluation and testing of this software, including coordination of testing during many underway shipboard events," said Mike Bibbo, VMS team lead. "The effort has resulted in safer, more efficient and increased capabilities in submarine navigation."

A Naval Sea Systems Command field activity, NSWC Port Hueneme, through its Virginia Beach detachment, is responsible for testing and evaluation, in-service engineering, and integrated logistics support for surveillance radar systems, system interface and radar design improvement.