Navy Submarines Begin Arctic Ocean Exercises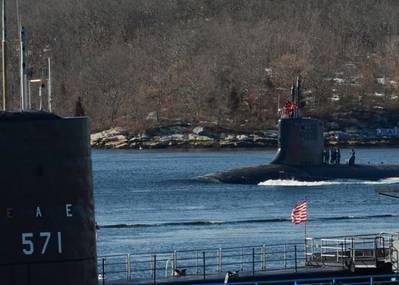 Virginia-class attack submarine USS New Mexico (SSN 779) and Los Angeles-class attack submarine USS Hampton (SSN 767) have commenced Ice Exercise 2014 (ICEX 2014) in the Arctic Ocean, says Commander, US Submarine Forces.

"In keeping with the Department of Defense's Arctic Objectives, the Submarine Force uses Ice Exercises to prepare for a wide range of challenges and contingencies," said Capt. Paul Whitescarver, the camp's officer in tactical command and operations officer at Commander, Submarine Force Atlantic.

"The Arctic environment is a tough place to operate, so there is no substitute for assessing our current capability and determining future requirements than to physically operate in the arctic. Our presence in the region coupled with the training that our submarine crews will participate in during ICEX 2014 ensures that our interests in the region will stay secure, support future safety and promote defense cooperation with many of our state partners."

The overall exercise has been planned and will be coordinated by the Navy's Arctic Submarine Laboratory (ASL) located at Naval Base Point Loma in San Diego. A temporary ice camp and tracking range will be built into the ice flow North of Prudhoe Bay, Alaska. The U.S. Navy Ice Camp NAUTILUS consists of a small village, constructed and operated especially for the ICEX by members of the U.S., Canadian, and British navies. 


U.S. submarines must continue to train in the Arctic environment to refine and validate procedures and required equipment, as the Arctic Ocean serves as a route for submarines to transit between the Atlantic and Pacific Oceans. The U.S. Submarine Force conducts these exercises in the Arctic in order to assure continued access to this unique region.