Navy Funds Austal to Build Two More LCS in US$3.5-Billion Program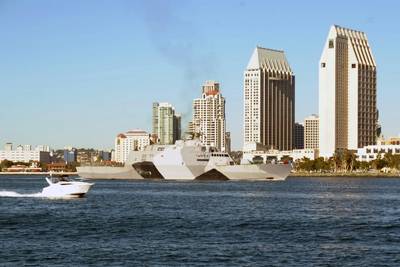 Austal inform that its USA's order backlog has grown by approximately US$684-million dollars as a result of two additional Littoral Combat Ship (LCS) contract options being exercised by the United States Navy.

The contract options fund construction of the LCS 18 and LCS 20, the seventh and eighth ships in the 10-ship block buy award made to an Austal-led team in December 2010 in a 10-ship program potentially worth over US$3.5-billion.

Chief Executive Officer Andrew Bellamy said the company's U.S. Navy programs provide revenue and workload for years to come. "Austal's serial production of these revolutionary ships continues to expand and improve, simultaneously delivering better program outcomes for the Navy and improved financial results for the company's shareholders," he said.
Austal USA President, Craig Perciavalle, had this to say regarding the new contract award, "This award is further evidence of the Navy's commitment to the LCS program and their confidence in Austal as a major defense contractor." Perciavalle continued, "This award wouldn't be possible without the hard work and dedication of our employees and the support from our local, state, and federal leaders."

Austal's Independence-variant LCS program is maturing rapidly with five ships under various stages of construction, including Jackson (LCS 6) which was launched in December 2013 and is preparing for sea trials and delivery by the end of this year and Montgomery (LCS 8) which is scheduled to be launched by the summer.

For the LCS program, Austal, as prime contractor, is teamed with General Dynamics Advanced Information Systems. As the ship systems integrator for the LCS program, General Dynamics is responsible for the design, integration and testing of the ship's electronic systems including the combat system, networks, and seaframe control.
www.austal.com