MEBA Points to a US-crewed Cruise Ship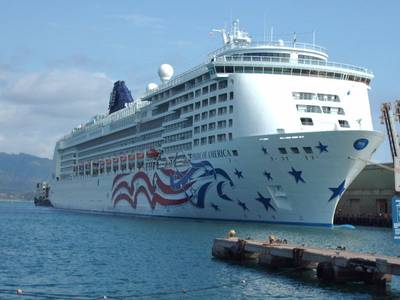 The Marine Engineers' Beneficial Association (MEBA) raises awareness of U.S. mariners in the cruise industry in light of recent media interest.

MEBA say it is proud to represent U.S. Merchant Mariners on the only U.S.-flagged and U.S. crewed cruise ship, the Norwegian Cruise Lines (NCL) Pride of America.

Recent media coverage concerning the cruise line industry has highlighted the lack of qualified ship's officers in this industry. However, the coverage has not addressed the skill and professionalism of the crew of this particular U.S- flagged cruise ship which has an outstanding safety and environmental record. In fact, according to MEBA, it is the best in the industry; exceeding all the requirements and regulations set in place by the U.S. Coast Guard (USCG), the U.S. Environmental Protection Agency, the Occupational Safety and Health Administration, and the International Maritime Organization.

In addition to the Pride of America, there are M.E.B.A. members serving aboard other NCL vessels that are registered in the Bahamas. These mariners also hold USCG licenses and, therefore, are trained and tested to the same high standards as all US deep-sea mariners.
The M.E.B.A states that it welcomes all opportunities to expand current job positions for U.S. mariners in the cruise industry and they have experienced members who are ready and willing to crew these highly sophisticated vessels servicing the cruise industry.