USS Theodore Roosevelt Returns to Sea Following COVID-19 Outbreak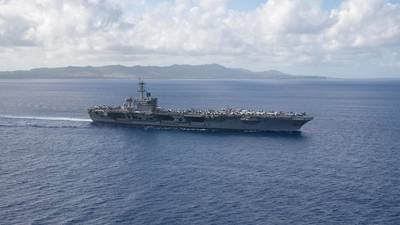 U.S. Navy aircraft carrier USS Theodore Roosevelt (CVN 71) is underway for the first time since being sidelined by an onboard coronavirus outbreak that infected hundreds of sailors and led to the firing of the ship's commander.
Theodore Roosevelt was in the Asia-Pacific region when a number of its sailors began falling ill with COVID-19, forcing the aircraft carrier to eventually dock in Guam on March 27. One sailor who was infected died, and more than 1,110 out of the roughly 4,800 personnel on the ship have tested positive for the virus.
The Roosevelt's commander had called on Navy leadership to evacuate the vast majority of his crew and to disinfect the ship in a letter that leaked to the public and ultimately led to Capt. Brett Crozier's firing and the resignation of acting Navy Secretary Thomas Modly.
Now, after moving nearly 4,000 crewmembers off ship for quarantine and cleaning the entire 1,092-foot aircraft carrier from bow to stern, Theodore Roosevelt left Naval Base Guam and entered the Philippine Sea Thursday with a reduced crew, or "scaled manning", to conduct carrier qualification flights for the embarked Carrier Air Wing (CVW) 11. The number of crewmembers necessary to operate the ship underway have returned from quarantine after passing the Navy's return-to-work criteria, including testing negative for the virus twice, Navy officials said.
"We are scaling our manning on board based on our mission requirement," said Capt. Carlos Sardiello, who took command of Theodore Roosevelt following Crozier's removal. "Carrier qualification requires fewer personnel than other missions, and bringing fewer sailors on board will enable enhanced social distancing while underway."
In addition to social distancing, Theodore Roosevelt sailors will execute Navy COVID-19 prevention and mitigation policies, including all required lessons learned from a safety stand down last week and a simulated underway earlier this week. During the simulated underway, the crew walked through routine and emergency procedures while executing COVID-19 mitigation measures, including wearing masks, medical surveillance of 100% of the crew, adjusted meal hours, minimizing in-person meetings, sanitizing spaces and a simulated medevac.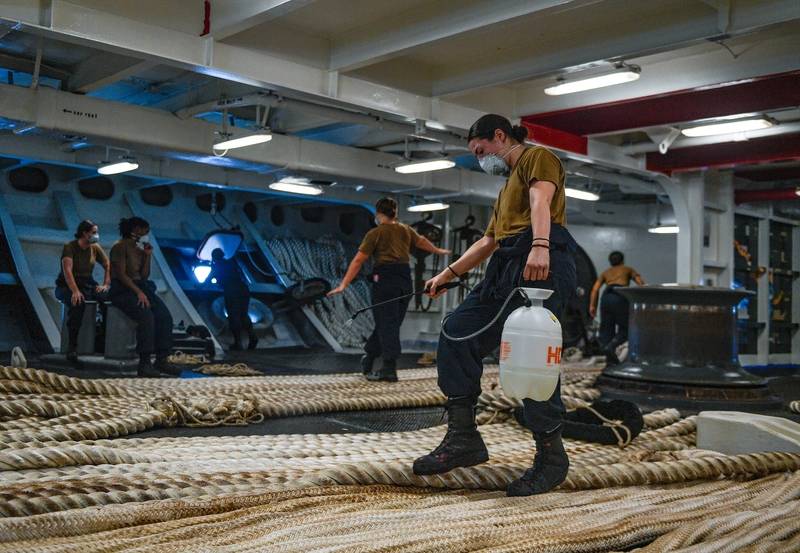 U.S. Navy Boatswain's Mate Seaman disinfects mooring line on board USS Theodore Roosevelt (U.S. Navy photo by Conner D. Blake)

"It was an unprecedented challenge to get to this point and I'm proud of the Rough Rider Team's tenacity and resiliency in the face of uncertainty," said Sardiello, who had served as the carrier's commander previously from July 2017 until Crozier assumed the role in November 2019.
The nation's fourth Nimitz-class aircraft carrier, Theodore Roosevelt departed San Diego for a scheduled Indo-Pacific deployment January 17.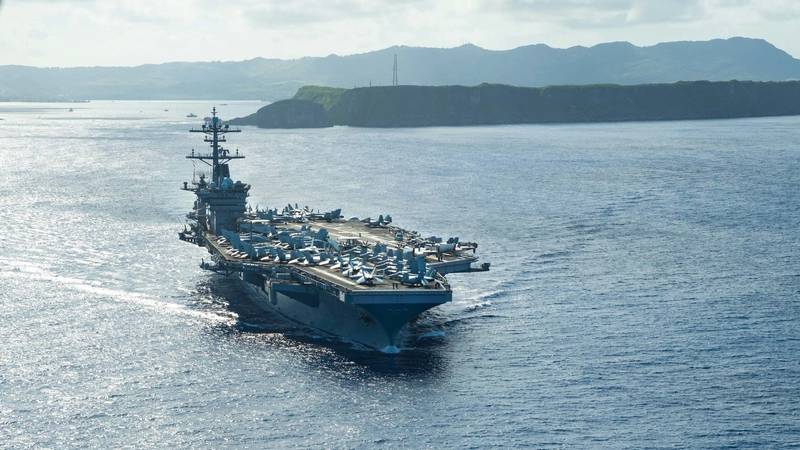 USS Theodore Roosevelt returns to sea after being sidelined in Guam for seven weeks due to a coronavirus outbreak on board. (U.S. Navy photo by Kaylianna Genier)