VIDEO: Meyer Werft Delivers Iona, Lagest Cruise Ship Ever Built for UK Market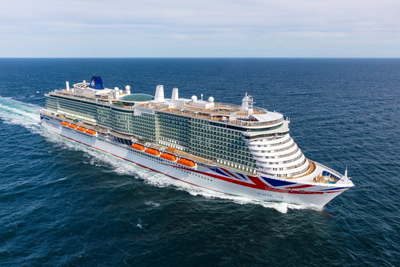 German shipbuilder Meyer Werft shipyard last Friday delivered to P&O Cruises the cruise ship Iona, dubbed the largest cruise ship ever built for the UK market.
Apart from being the largest, with 185,000 tonnes, 345 meters in length with 17 guest decks, Iona is also the first British cruise ship to be powered by liquefied natural gas (LNG). It features four low-emission dual-fuel engines from Caterpillar, which can be operated 100% with LNG at sea
and in port.
The cruise ship had been scheduled for delivery to Carnival's P&O brand earlier this year and was due to enter service in May before COVID-19 disrupted work onboard Iona and at many shipyards across Europe, including Fincantieri, MV Werften, and others.
Commenting on the company's new ship, P&O Cruises president, Paul Ludlow, who was present at the event in Papenburg and signed the Protocol for Delivery and Acceptance said: "Iona's delivery is a very positive signal for the future of cruising. She is now officially part of the P&O Cruises fleet and we are focused on readying her to welcome guests during her new maiden season to Northern Europe, Spain, Portugal and the Canary Islands from our home port of Southampton."
"Already eagerly anticipated by our guests, crew, and the communities we visit, events this year have increased the sense of anticipation even more."
"Whilst our operations are currently paused until early 2021 Iona will not be sailing for the moment but we look forward to our guests experiencing this game-changing ship as we will continue to offer unparalleled holidays at sea whilst also upholding the latest approved travel protocols," Ludlow said.
Per Meyer Werft, the Iona is the first of two new ships for the P&O Cruises brand. Six more ships for Carnival Corporation (Miami) have already been ordered in Papenburg and from Meyer Turku for other brands of the group.
"This is really a very special delivery for us for a variety of reasons. Not only because of the current Corona crisis, but also because we delivered Aurora to P&O Cruises exactly 20 years ago. Iona is an exceptional ship that marks a milestone in our long partnership with P&O Cruises. I would like to thank the entire team for their extraordinary commitment", says the shipbuilder's Managing Director Jan Meyer.
The architectural highlight of the Iona is the SkyDome, a glass dome measuring around 970 square meters. The dome weighs 105 tons and consists of 340 triangular glasses. The ship will also feature "the first-ever gin distillery at sea."
According to the owner, Iona will have eight specialty restaurants including yet to be unveiled concepts, as well as 13 entertainment venues, four swimming pools including "a spectacular infinity pool at the aft of the ship and 16 whirlpools."
Iona has a normal operating capacity of 5,200 guests and 1,800 crew. The cruise ship is home to 2,610 cabins.