VIKING Acquires Drew Marine's FSR Division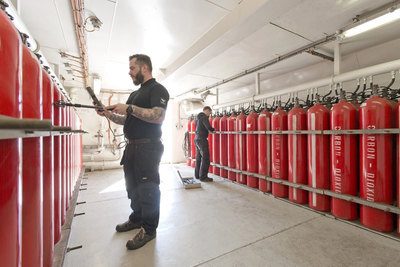 VIKING has acquired Drew Marine's Fire Safety and Rescue (FSR) division.
VIKING increases its global volume, reach and technical competencies for marine firefighting equipment services (MFS).
At the moment, Drew Marine FSR provides services in more than 150 ports across 45 countries. The division offers a complete range of FSR services, specializing in solutions for fixed-firefighting foam, fixed-extinguishing and dry-powder systems – along with calibration solutions for gas detection, medical oxygen, and dry-docking services. All these capabilities and not least the experience and know-how of the large team of Drew Marine FSR technicians, will transfer to the global VIKING MFS setup.
Drew Marine FSR headquarters in Rotterdam will take on a new role as VIKING's new global MFS competency center.
Now, customers will have access to a portal where they can view service history, budget and planning. Customers will also rest assured knowing that Drew Marine FSR holds approvals from the majority of established classification societies. Vessel owners and operators can streamline and simplify all aspects of safety equipment compliance with a single global expert supplier.
The acquisition will see 50+ Drew Marine FSR staff at seven locations transferred to VIKING. The transaction will take place on January 2, 2020.