VSAT Connectivity for Briese Schiffahrts Fleet Expansion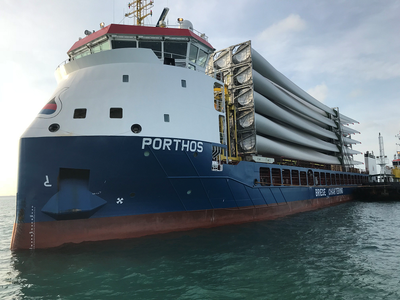 Globecomm has supplied its global Ku-band VSAT service to specialist shipowner and manager Briese Schiffahrts in support of its fleet growth plans.
Long-time Globecomm customer Briese is undertaking a program of fleet renewal, constructing a series of eight 'Open Top Eco 5000' multi-purpose vessels, designed to consume 30 percent less fuel but with increased crane and cargo capacity.
The first of four ships was christened in mid-April 2018 at Zhejiang Zengzhou Shipbuilding Co with three more of the 90-meter long, 3415gt, Dutch flag, ice-class 1A ships slated for delivery later this year.
Another newbuilding, the project cargo carrier BBC Russia — a sistership to the 12,500-dwt Jan – was delivered from Jiangsu Hongqiang Marine Heavy Industry in April.
With all of its vessels outfitted with a combination of a Sailor 900 VSAT terminal, one or more Iridium OpenPort L-Band as a back-up and the Globecomm Nimbus network management 'smartbox,' Briese will enjoy unlimited data for enterprise users and crew members.
Briese is engaged in a global roll-out of the Globecomm VSAT system across its owned and managed fleet, upgrading L-Band systems on a continuous basis to around 60 percent of vessels to date. The Leer-based owner assumed management of six craned project cargo vessels of 12,780dwt in 2015 and 2016 and a further four vessels of this type were taken over in March and April 2018, which will also be equipped with Globecomm VSAT.
Using the Nimbus smartbox with its Cirrus shoreside portal enables Briese to segregate network traffic and employ performance monitoring and enhanced safety services in a cyber-secure environment. Working with Briese, the Globecomm development team in Munich developed a system for automatically updating ECDIS navigation chart data with specially-defined firewall permissions.
Globecomm VSAT is a high capacity end-to-end VSAT service integrating premium shipboard hardware and monitoring tools to provide maximum service performance across the broadest coverage footprint. Built, managed and supported by Globecomm, the service supports a broad range of applications over a robust, scalable, managed network designed specifically to deliver shared services and private networks to customers in maritime and energy markets.
Built on the IP-based iDirect Evolution platform to support automatic beam switching and access to High Throughput Satellite services, it offers a full Bring Your Own Device experience via selected Wi-Fi Access Points. Added value services include firewall and content filtering, advanced email management, a prepaid crew management portal, with proactive network monitoring and support and 24/7 global support.