VT Halter to Build ATB Tug for Bouchard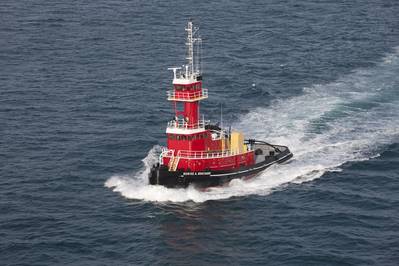 Mississippi shipbuilder VT Halter Marine, Inc. said it has secured a new contract to build an articulated tug barge (ATB) tug with an option for a second vessel for Bouchard Transportation Co., Inc.
Construction of the new vessel, M/V Evening Stroll, begins immediately at the builder's Pascagoula, Miss. shipyard, with delivery scheduled for December 2019. This vessel will enter into Bouchard's fleet service in New York, N.Y to transport liquid petroleum products throughout the Jones Act Market.
The new tug measures 112 feet by 35 feet by 17 feet and is a sister vessel to the previously delivered M/V Denise A. Bouchard and M/V Evening Star, as well as the M/V Evening Breeze currently under construction and due for delivery during the first quarter of 2019.
The M/V Evening Stroll is a 4,000hp twin screw ATB tug classed by ABS as Maltese Cross, A1 Ocean Towing, Dual Mode ATB, USCG Subchapter M, SOLAS, meeting U.S. EPA-Tier 4 requirements, and equipped with an Intercon Coupler System.