World's First Methanol-fueled Containership Bunkers in Korea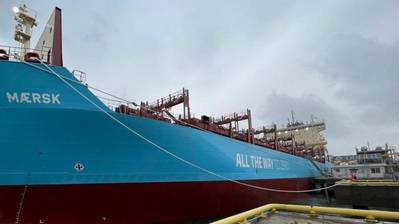 Maersk's first-of-its-kind methanol dual-fuel containership made history on July 16 when it became the first to bunker methanol.
The newly built vessel bunkered 1,000 metric tonnes of the cleaner burning fuel at Odfjell Terminals Korea in Ulsan before embarking on its 21,500-kilometer maiden voyage toward Copenhagen, where she will be officially named in September.
"This journey is an important step in our efforts to reach net zero greenhouse gas emissions by 2040, as it will allow us to gain the necessary operational experience with the new engines and fuel ahead of the arrival of our larger methanol-enabled vessels in the coming years," said Morten Bo Christiansen, Head of Energy Transition, A.P. Moller-Maersk.
The 2,100 TEU-sized vessel is the first of 19 methanol dual-fuel engine ships to come from Maersk.
"We congratulate Maersk on this important milestone, and are proud to be the first terminal to successfully supply green methanol bunkering to this unique vessel. Over the past months, there have been business reviews and technical efforts on safe and successful methanol bunker supply models. We expect these results to be the cornerstone of the methanol bunkering business moving forward." said OTK Chief Commercial Officer Joseph Kim.
Ahmed El-Hoshy, CEO of OCI Global who produced the green methanol, said, "The successful bunkering is a testament to the collaboration of all the partners involved and we look forward to fueling more journeys on green methanol from now on."
The bunkering is the result of a collaboration between the Ulsan Port Authority, Maersk, OCI Global, Odfjell and other partners, with the support of the Korean Ministry of Oceans and Fisheries and Ulsan Regional Office of Oceans and Fisheries.
Green methanol can reduce Sulfur Oxides (Sox), Nitrogen Oxides (NOx) and Particulate Matter (PM) emissions by more than 95%, and NOx by up to 80% compared to conventional marine fuels, and can be carbon neutral on a lifecycle basis.