World's Largest Containership HMM Algeciras Launched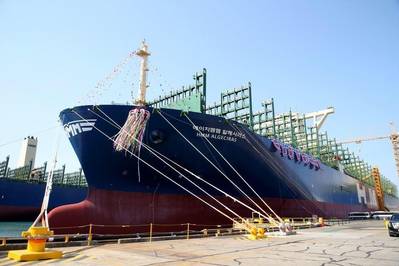 South Korean ocean carrier HMM held a naming ceremony for the newly constructed 24,000 TEU-class containership HMM Algeciras, the world's largest containership, at the Daewoo Shipbuilding & Marine Engineering's (DMSE) Okpo shipyard in Geoje, Korea.
The 399.9-meter HMM Algeciras is the first of a dozen 24,000 TEU-class vessels scheduled to be delivered this year, and takes the "world's largest" title from the 23,656 TEU Gülsün-Class ships owned by Mediterranean Shipping Co (MSC).
In September 2018, HMM signed an order contract for the construction of 20 mega container vessels at South Korea's 'big three" shipyards – DSME, Hyundai Heavy Industries (HHI) and Samsung Heavy Industries (SHI) – in an effort to "take proactive actions toward market change" and "form a sustainable profit-generating structure".
DSME and SHI are building seven and five of the mega 24,000 TEU-class ships respectively, expected for delivery through September 2020. HHI is constructing eight 16,000 TEU-class containerships to be delivered from the second quarter of 2021.
The vessels feature an optimized hull design and highly-efficient engines and are equipped with a scrubber system to meet IMO 2020 environmental regulations.
The untimely delivery of the new mega vessels comes as global shipping markets grapple with decreased demand due to the coronavirus pandemic.
"For me, it is very meaningful that HMM takes delivery of the most technologically advanced containership in this difficult time. I would like to celebrate it and hope that HMM continues to secure a competitive advantage as a Korean national flagship carrier," said Moon Jae-in, President of the Republic of Korea, at the HMM Algeciras launch ceremony.
First Lady Kim Jung-sook served as godmother and cut the ropes to officially name the ship during the ceremony.
HMM Algeciras will be deployed on Far East Europe 4 (FE4) service, one of the Asia-North Europe trade lanes of THE Alliance, with its port rotation starting at Qingdao, Busan, Ningbo, Shanghai, Yantian, Suez Canal, Rotterdam, Hamburg, Antwerp, London Gateway, then Singapore via Suez Canal.
"HMM will strive to expand its presence in the global shipping industry based on optimized fleet management and new cooperation with THE Alliance." adds Bae Jae Hoon, President & CEO of HMM.
HMM Algeciras
LOA : approx. 399.9m
Beam : 61m
Depth : 33.2m
Capacity : 23,964 TEU
Flag : Panama