Atlantic Offshore Gets Statoil PSV Contract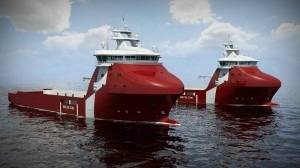 Atlantic Offshore signs long-term contract with Statoil to operate two Platform Supply Vessels (PSV) from 2014
The agreement, which consists of two contracts, has a length of six years with an option for a further three years. The vessels will be built in Norway and ensure important jobs in the shipbuilding industry.
The vessels will be built to Wartsila design (VS 485 MKIII L). These are among the largest PSV vessels in the market, approx. 90 meters in length, and with a loading area of 1050 square meters.
The newbuildings will have low energy consumption and be economical in operation. Both vessels will hold the highest standards with advanced technology, meeting all certifications and environmental specifications.
We need to invest significant amounts in new buildings that will be operational early in 2014, says CEO Roy Wareberg of Atlantic Offshore. He explains that the agreement with Statoil has positive consequences for Norwegian industry:

The new buildings will initially operate in the North Sea when they are in operation.