TOTE: World's First LNG-Powered Containership Delivered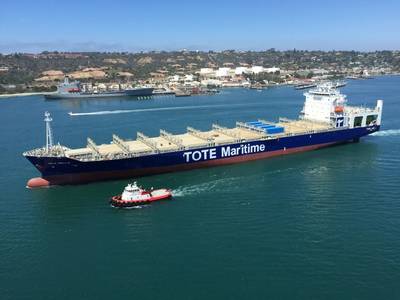 General Dynamics NASSCO and TOTE announce the delivery of Isla Bella, the world's first LNG-powered containership
The culmination of a historic journey in U.S. shipbuilding history ended today with the announcment that General Dynamics NASSCO delivered Isla Bella, the world's first
liquefied natural gas
(LNG) powered containership, to TOTE Maritime. While TOTE has been making world headlines of late for the recent, tragic loss of its ship El Faro, the technical achievement of this new ship construction program is significant.
The ship was delivered nearly two months ahead of schedule by NASSCO, and it is a part of a two-ship contract signed in December 2012 with TOTE. The 764-ft. Marlin Class containerships will be the largest dry cargo ships powered by LNG, making them the cleanest cargo-carrying ships anywhere in the world. This
green ship technology will
dramatically decrease emissions and increase fuel efficiency when compared to conventionally-
powered ship
s.
The delivery of this historic ship, also demonstrates successful collaboration between industry and regulatory bodies. TOTE, NASSCO, the American Bureau of Shipping, and the U.S. Coast Guard worked hand-in-hand from the beginning of the project to the delivery of the Isla Bella. This included collaboration during the design approval, construction and commissioning the ship to safely and effectively operate on natural gas. The Jones Act-qualified ships will operate between Jacksonville, Florida, and San Juan,
Puerto Rico
.