No Sign Ship Collision Was Intentional -US Navy Chief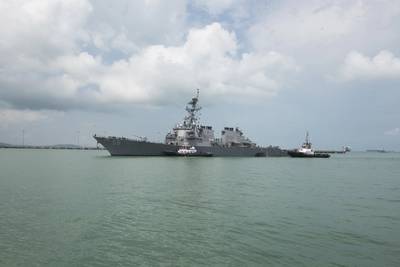 There was no indication that the collision between a U.S. Navy ship and a tanker
near Singapore
on Monday was intentional, U.S. Navy Chief of Naval Operations Admiral
John Richardson told
reporters at the
Pentagon
on Monday.
Ten U.S. sailors were missing after a collision between the USS McCain destroyer and the tanker, the second involving a U.S. warship and a merchant ship in Asia in about two months, triggering a fleet-wide probe of operations and training.
Richardson said, "We have no indication" the collision was intentional. He added the Navy would examine "every possibility" from training to possible radar jamming and cyber interference.
Richardson said he was asking fleet commanders to implement a one-to-two day "operational pause" on a staggered basis worldwide to ensure safe and effective operations.
Richardson envisioned the pause could begin within a week but said he would leave the specifics to fleet commanders.
The accident early on Monday followed one in June, when the USS Fitzgerald guided missile destroyer collided with a freighter in Japanese waters, killing seven sailors.


(Reporting by Mike Stone; Editing by Cynthia Osterman)