DSG Marine Asks Shipowners to Consider Fixed Premium P&I Cover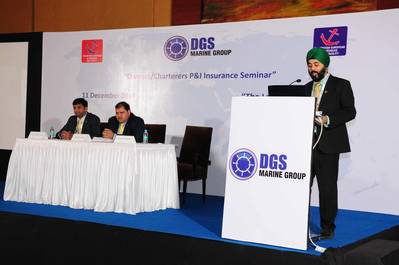 P&I Insurance Seminar for Owners and Charterers held in Mumbai
DGS Marine, a global P&I management provider and exclusive manager for the British European and Overseas (BE&O) P&I Facility, has advised Indian shipowners to consider the benefits of fixed premium P&I cover.
DGS Marine spoke at a P&I Insurance Seminar held in Mumbai, India last week and jointly hosted by DGS Marine Group and the British European and Overseas (BE&O) P&I Facility. Attended by delegates from across India's shipping community, the seminar examined a range of shipping-related legal and insurance issues, including the challenges of handling owners and charterers claims, charterers liability, the distinctions between P&I and Hull & Machinery cover, and managing disputes in commercial contacts.
Among the speakers was Captain Nigel Moniz, Divisional Director for DGS Marine, who presented on the merits of fixed premium P&I cover as an alternative to the mutual model offered by the IG Clubs. As Captain Moniz explained, the growing popularity of fixed premium cover has been largely driven by smaller and medium-sized ship owners seeking greater certainty and control over their insurance costs.
"As opposed to the retrospective premium calls and high release calls imposed under the mutual model, fixed premium P&I cover gives shipowners the cost control and transparency that they require for all aspects of their operational expenditure, including their insurance costs," Moniz said. "Fixed premium cover gives owners complete certainty of their costs, combined with renewals that are based on their individual claim records and no release calls."
The Seminar was hosted by Captain Kavinit Uberoi, Mumbai Office Director for DGS Marine. A Master Mariner, with 16 years of experience at sea, serving on bulk carriers, crude tankers and chemical tankers, Captain Uberoi is also a certified ISO and ISM Auditor.
Speaking after the Seminar, Captain Uberoi commented, "Whether they are operating in domestic shipping only or trading internationally, Indian ship owners and charterers are operating in an increasingly complex environment, with greater competition, new regulations and more commercial pressures than ever before. Marine insurance is an important part of this picture and we understand how challenging this can be, particularly if you're not an insurance expert. The aim of our seminar was to provide an insight into some of the most important issues in marine insurance today, in order to help our customers and colleagues in India minimize the risks that they face and find the optimal insurance solutions for their shipping operations."
Uberoi added, "The future looks bright for Indian shipping, with increased Government support designed to boost the Indian shipping sector and new opportunities for Indian ship owners and charterers. As their businesses grow, we want to ensure that they are aware of some of the simple steps that they can take to find the right insurance products for them and to protect their interests in the event of a claim, particularly since the legal complexities associated with claims handling and questions of liability can be significant.
"One of the big lessons from our seminar was the importance of technical expertise and maritime experience in the handling of claims, particularly when it comes to the collection of evidence. Like me, a considerable number of the team at DGS Marine have spent a lot of time at sea and have extensive first-hand experience of the issues at stake, which is a huge asset when it comes to claims investigations."