ASRY Builds Four New Shipyard Tugs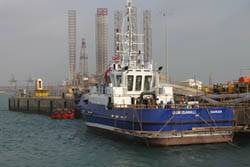 While Bahrain's Arab Shipbuilding & Repair Yard Co (ASRY) is an established power in the ship repair business, it had traditionally not engaged in the business of ship and boat building.
"The very simple answer, really, is that we have found there is more money to be made repairing ships than building them,"
said Chris Potter
, Chief Executive Officer, ASRY. ASRY is, however, capable, and is building a series of four new tugs for itself on its large slipways, with the lead vessel, as yet unnamed, due for delivery by the end of 2011. The new tugs are of a design developed by Singapore's SeaTech Solutions International (S) Pte, with a materials package being provided by
another Singapore
-based company, Pacific Ocean Engineering & Trading Pte Ltd (POET).
The new tugs are designed to be highly maneuverable and high performance Azimuth Stern Drive (ASD) design, having a length o.a. of 25.8m, beam molded of 9m, depth molded of 5m and draft molded of 4m. Bollard pull is 40 tons with speed, at half load, of 11 knots.
The quartet has been designed specifically for docking and berthing operations within the shipyard, as well as for coastal offshore towing. The compactness of the design allows for operations in restricted areas of the shipyard, as well as docks. Equipped for fire-fighting operations as well as
pollution control duties
, the new tugs are also designed for push-pull operations from the bow and for towing operations from the stern hook.
The layout of ASRY's new tugs features a compact deckhouse placed well inboard, with spacious aft and fore decks. The wheelhouse provides a 360 degree view, while sky windows are fitted for enhanced ship handling operations during docking and undocking work. The hull of each tug is constructed of a double chine design with inclined transom stern and tapered bow. A double-plate skeg provides for good directional stability.
The new shipyard tugs have a low air draft, enabling them to provide assistance to highly raked ships when docking and undocking, as well as manoeuvring under mooring lines. The hull is divided into four watertight compartments, while a heavy sheer strake around the hull, coupled with cylindrical fenders at the bow and the stern, provide for enhanced hull protection. Towing bits are located forward and aft, plus a combined hydraulic anchor/towing winch on the foredeck.
Propulsion for ASRY's four new tugs comes from two Schottel SRP 1010 CP steerable rudder propeller units with CP inward rotating propellers in nozzles driven by two 1,324kW Yanmar 8N21 resiliently-mounted diesel engines, via cardan shafts, flexible couplings and clutch. Auxiliary machinery comprises two 99kW Volvo Penta diesel generators and two 20m3/hr bilge pumps.
For fire-fighting operations all four tugs are equipped with a 1,200m3/hr at 10.5 bar capacity fire-fighting pump, which is driven off the port main engine. The fire monitor can deliver either water of foam. For pollution control duties each tug is equipped with a dispersant pump with two spray booms. Each tug has accommodation for a crew of eight.