USS Guardian Valedictory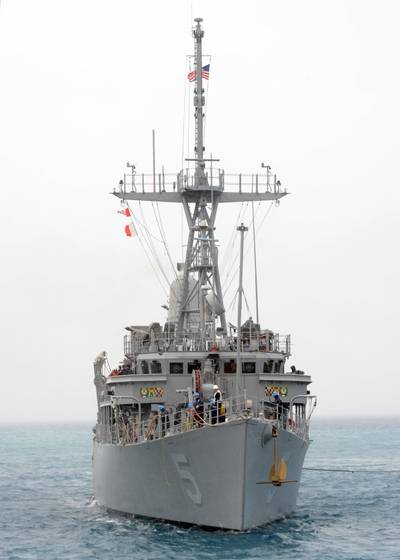 Vice Adm. Tom Copeman , Commander Naval Surface Force, U.S. Pacific Fleet fittingly remembers USS Guardian, now being scrapped.
"During times of war and while operating in international exercises for nearly a quarter of a century, the crew and ship remained at the highest levels of readiness, serving our nation well," noted Admiral Copeman. He continued:
"A significant moment during a ship commissioning ceremony occurs when there is a call to 'bring this ship to life,' and the crew sprints from their positions pierside, across the brow and into the ship itself, effectively adding life to what was once cold iron.

Equally momentous for a ship is when she is decommissioned, stricken from the fleet and returned to cold iron; the crew and former crewmembers left with their memories and reminders of serving our nation and multiple missions on an endless sea.

Twenty-three years ago, USS Guardian (MCM 5) was commissioned as part of the new Avenger-class ship created to detect and destroy mines that might threaten our Sailors and ships or close vital shipping lanes.
On March 6, 2013 the Navy will conduct a formal decommissioning ceremony in Japan for Guardian, honoring her service and achievements."