CMA CGM Looks to Leverage Artificial Intelligence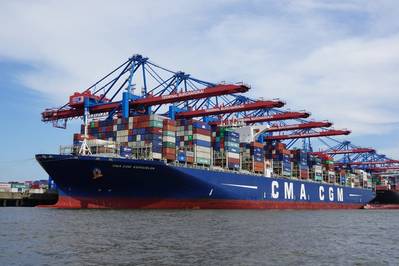 French shipping group CMA CGM said it has been working with a San Francisco-based startup on a project to embed artificial intelligence and advanced digital technologies aboard its containerships.
The collaboration kicked off in the beginning of 2018 and includes the maritime focused tech startup Shone, which was founded by three French engineers in 2017 to introduce artificial intelligence such as is already found in cars on board ships.
Through the partnership, Shone has gained access to CMA CGM's vessels in order to analyze information from the ships' data collection systems and ultimately develop onboard artificial intelligence systems.
CMA CGM said the development will facilitate the work of vessel crews in areas such as decision support, maritime safety or piloting assistance. In addition, for security and anti-collision alert systems, Shone fuses data from multiple sensors (radar, camera, AIS, etc.) to increase detection accuracy and help prevent potential collisions, taking into account the Convention on the International Regulations for Preventing Collisions at Sea (COLREGs).
As part of an ongoing digitalization and innovation push driven by chairman and CEO, Rodolphe Saadé, CMA CGM has introduced a host of initiatives and measures to drive the use of new technologies across its business.
"Innovation and digitalization are at the heart of our strategy. Our ambition is to create a competitive advantage by offering our customers state-of-the-art technologies," Saadé said in September 2017.
Among these initiatives, CMA CGM last year signed a strategic partnership agreement with Indian tech firm Infosys to transform its IT applications and also announced it would create its own start-up incubator in Marseilles.
In January the group recruited Rajesh Krishnamurthy from Infosys as group senior vice president IT & transformations.