Raytheon Anschütz: New Radar NX Software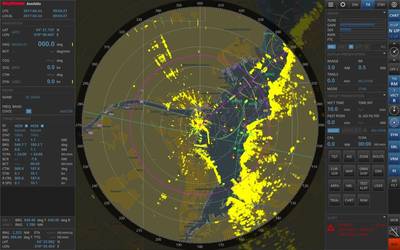 Raytheon Anschütz offers a new navigational radar and chart radar software. It is designed with an intuitive user interface and a smart range of scalable functionality characterize the new Synapsis Radar NX application. With the new radar and chart radar application, Raytheon Anschütz completes the Synapsis NX series of innovative bridge navigation systems.
"Radar NX was developed in accordance with human-centered design principles," said Björn Schröder, product manager for radar and ECDIS. "The user interface concept perfectly matches our new ECDIS NX, which has been presented last year and which earned user feedback of an unparalleled intuitiveness in use."
The optimized grouping of data and current settings provides operators with clear situation awareness. In addition, the quick access bar makes the most often used operations and functions available at a fingertip. Operators benefit from a superior non-distracted overview, situation awareness and a fast interpretation of the radar picture.
Radar NX delivers customers optimized performance in tracking and anti-clutter processing. It can also include an advanced, smart radar video merging function, which integrates the video of multiple radar transceivers into a single, unobstructed radar video. The software is scalable to include additional functionality beyond basic IMO standards to support special customer requirements such as helicopter tracking and guidance.