SharpEye Radar for Trinidad & Tobago CG Patrol Craft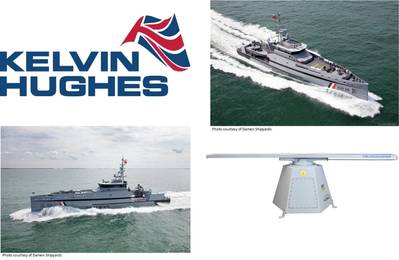 Kelvin Hughes, a designer and supplier of navigation and security surveillance systems, announced the installation of its new SharpEye upmast radar system on four new vessels commissioned by the Trinidad and Tobago Defence Force.
The Damen Stan Patrol 5009 Coastal Patrol Vessels are all now fitted with a
Kelvin Hughes Advanced
Surveillance System incorporating a SharpEye X-Band radar, located upmast in a carbon composite housing with a stealth profile, as well as a tactical radar display. The four craft - the TTS Speyside, Quinam, Moruga and Carli Bay - will patrol Trinidad and Tobago's coastal waters and are also capable of operating in its Exclusive Economic Zone.
The SharpEye radar was selected as the surveillance radar due to its superior target detection capability especially in poor weather conditions such as heavy rain and high sea states. Dedicated primarily to surface search and surveillance to counteract illegal activity, the radar will also be used in support of the vessels' navigational magnetron radar to provide the safety and situational awareness required in high clutter conditions.
With its longer range target detection capability and low power output - reducing the probability of detection by ESM equipment - the SharpEye radar will enable the craft to remain out of visual sight and out of conventional radar detection range whilst still being able to track and monitor vessels under investigation.
The original order for the
SharpEye radar systems
was placed by Alphatron Marine BV of The
Netherlands
who was assigned as the integration partner for Damen Shipyards. With deliveries and sea trials conducted between April and October of last year, the programme was concluded in November and both the radar and the patrol craft are now in service.
Rohan Dearlove, Kelvin Hughes' Sales Director – Central Region, commented: "We're delighted to have successfully delivered this important project to Alphatron Marine, Damen and the Trinidad and Tobago Defence Force. The selection of SharpEye radar technology delivers benefits to all of our customers, whether they be system integrators, shipbuilders or end users. The End User benefits from enhanced levels of performance and a low cost of ownership, whilst integrators and shipbuilders benefit from ease of integration and a simple physical installation."