Second Zumwalt-class Destroyer Keel Laid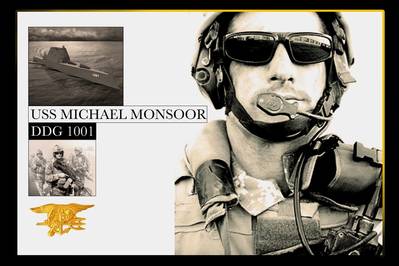 Future 'USS Michael Monsoor' (DDG 1001) keel authenticated at the General Dynamics-Bath Iron Works shipyard.
The keel authenticators were George and Sally Monsoor, parents of the ship's namesake Medal of Honor recipient Petty Officer Second Class Michael A. Monsoor. They confirmed that the keel is "truly and fairly" laid by having their initials welded into a steel plate that will be affixed to the ship's hull. 

"Together with Bath Iron Works, we're very honored to have the Monsoor family with us here today to commemorate the first milestone in bringing this ship to life," said Capt. Jim Downey, DDG 1000 program manager, Program Executive Office, Ships. "This extremely capable warship is a lasting tribute to Petty Officer Monsoor's bravery and sacrifice and will symbolize his strength and dedication for generations to come." 


Petty Officer Second Class Michael A. Monsoor, a U.S. Navy SEAL, was posthumously awarded the Medal of Honor for his heroic actions while serving in Ramadi, Iraq, in 2006.
The USS Michael Monsoor (DDG 1001) will be a multi-mission surface combatant tailored for advanced land attack and littoral dominance. The ship's mission is to provide credible, independent forward presence and deterrence and to operate as an integral part of naval, joint or combined maritime forces. The ship will be 610 feet in length, have a beam of 80.7 feet and displace approximately 15,000 tons.